Aircalin is implementing the necessary measures to guarantee you a safe journey. You can find these measures under the  "Aircalin FlyCare" Program, which is updated regularly. 
Flycare
Aircalin is implementing all necessary measures to guarantee you a safe and healthy flight. These measures are called "Aircalin FlyCare" and are adjusted on a regular basis.  Aircalin has received the Diamond Award from APEX Health Safety powered by SimpliFlying, for the best measures implemented by airlines focusing on health & safety.
AIRCALIN RECOGNISED FOR ITS FLYCARE PROGRAM
In October 2021, Aircalin received the Diamond Award, the highest distinction in its category, from the APEX Health Safety powered by SimpliFlying, for the best measures put in place by airlines in the area of ​​health and safety. The Airline Passenger Experience Association (APEX) has recognized the commitment of Aircalin and all of its staff, in placing the health and safety of our customers at the heart of our priorities.
Your booking
You do not need to visit our reservations office: search, book and modify tickets directly on our website.
Our call centres are also available to answer your questions and assist you in making a booking. Find all our contacts and opening hours. 
Travel with peace of mind by consulting the travel formalities for your destination. All the information in the travel formalities section below. 
Mask
Wearing a mask is no longer mandatory on board Aircalin flights. However, it remains an effective way to protect yourself and others.
At the airport
In order to decrease your waiting time at our check-in desks, we recommend that you check-in online. This is available from 30 hours before your departure.
CLEANING OF THE CABINS
The daily cabin cleaning procedure is enforced before each departure. To ensure disinfection, a virucidal product is manually applied on contact surfaces. This virucide is certified for aviation, approved by Airbus and approved by the New Caledonian Health Authority.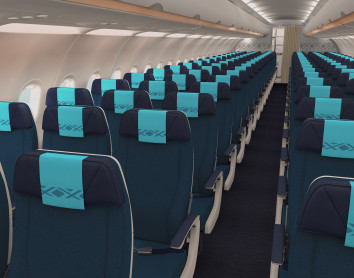 AIR QUALITY IN THE CABINS
The filters used on all Aircalin aircraft are the latest generation air filters, with very high efficiency and absorption capacity*. They renew the air in the cabin every 3 minutes, filtering out particles, viruses and bacteria to 99.97%. The filtering complies with the highest health standards for operating theatres.                                                              
*HEPA filters High Efficiency Particulate Air